Basic TUNE-UP $64/$44 SINGLE SPEED
12-Point inspection and adjustment of handlebar, stem, headset, cranks, pedals, wheels, tire wear and pressure, brakes, gears, chain, seat post, and saddle
True wheels
Wipe down frame and fork
Lube chain
Everything in Basic Tune-up
Inspect, adjust, and lube drivetrain (derailleurs, chain, cassette, chain rings, shifters, and cables)
Inspect, adjust, and lube brake system (calipers, brake pads, rotors, levers, and cables)
Inspect and adjust hubs and bearings
True wheels and ensure proper spoke tension
Inspect, lube, and/or grease all other components
Everything in Performance Tune-up
Remove and degrease chain and cassette
Inspect, adjust, and lube brake system (calipers, brake pads, rotors, levers, and cables)
Installation of new parts or accessories
(Excludes cost of parts/accessories)
Full detail wash and apply frame protectant
BRAKE SYSTEM OVERHAUL $35/$45 DISC
Inspect entire brake system for excessive wear or damaged parts, and replace if needed (Excludes parts)
Remove and clean brake pads, rotors, and/or rim surfaces
Adjust brake calipers, pads, and cable tensionExcludes bleeding hydraulic brakes
True wheels and/or align rotors
Secure and lube brake calipers, levers, and cables
Inspect entire brake system for excessive wear or damaged parts, and replace if needed (Excludes parts)
Remove and degrease derailleurs, chain, cassette, and chain rings
Inspect and align rear derailleur hanger
Adjust brake calipers, pads, and cable tension
Secure and lube brake calipers, levers, and cables
Disassemble frame, fork, wheels, drivetrain, brake system, and components
Inspect all parts for excessive wear or damage, and replace if needed (Excludes parts)
Overhaul drivetrain ($65 service)
Overhaul brake system ($35 service)
Overhaul wheel system ($35 service)
Install new derailleur and brake cables and housing (Parts included)
Installation of new parts or accessories (Excludes cost of parts/accessories)
Lube/grease and adjust all bike components
Apply frame protectant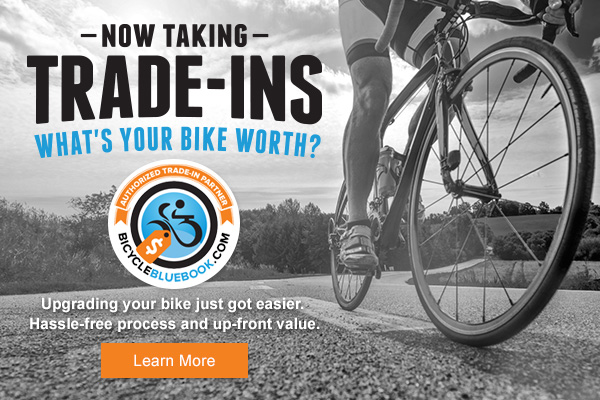 Instantly unlock the cash value of your used bike by trading it toward the purchase of your new bike.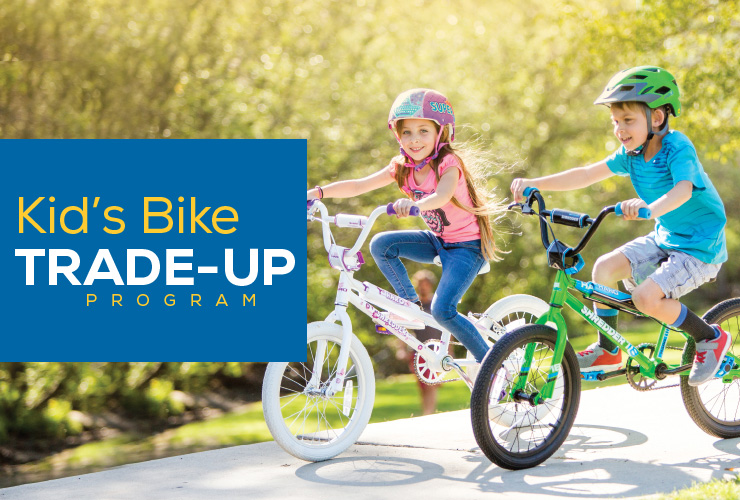 It's easy, just buy your child's new bike (24" wheel or less, excludes all BMX and Freestyle bikes) and we'll give you up to 50% of the original purchase price back in trade when you buy your next bike.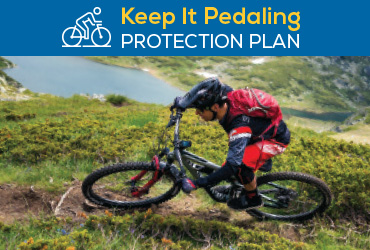 Aside from a few of our stores, Sun & Ski has an on-site bike service shop with certified technicians with years of experience in bike repair and maintenance, to ensure customers a complete "fit and tune" before hitting the road.