Keep It Pedaling Protection Plan
Make sure to protect your new investment with our Keep It Pedaling Protection Plan.
It's an easy and affordable way to pedal along with the peace of mind that your new bike is protected from unexpected malfunctions and failures during normal wear and tear.
We know that you're thinking—this all sounds great, but how does this work and what does this plan cover? That's the best part. It covers almost the ENTIRE BIKE and ANY new bicycle purchased. It provided for the repair or replacement of the broken parts and all the labor to install them at no additional costs.
*Service is only provided at Sun & Ski bike shops.

Coverage Information
Defects/breakdowns due to normal wear & tear
Hassle-free repair or replacement at all service locations
Parts & Labor included with no hidden costs/deductibles
Free flat tire repair (tube & tire not included)
Parts Covered
Wheels
Spokes
Rims
Hubs
Pedals
Quick Releases
Cranks
Brakes
Bottom Brackets
Brake Cables/Housing
Brake Levers
Drivetrain
Chain*
Derailleur (Front & Rear)
Fork
Shifters, Cables, Housing
Freewheels/Cassette*
Suspension
Handlebar & Stem
Headset
Seat Frame & Post
*Replaced when it fails to meet normal standards of operating performance.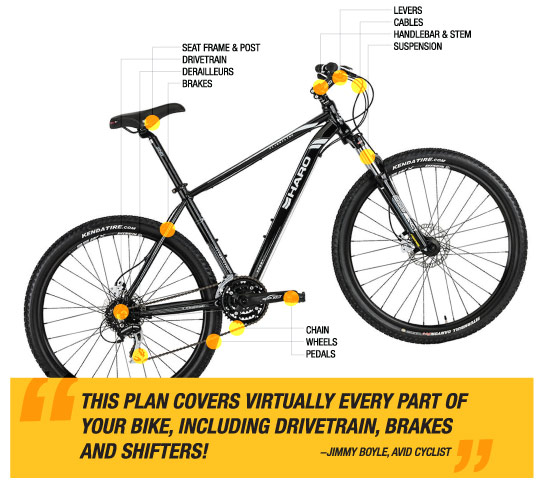 $1,000 to $2,499.99
$119.99
$1,000 to $2,499.99
$179.99