Share Your Warmth this Season
For those who are homeless or having a hard time making ends meet, even a cool night can be uncomfortable, and a cold night can be deadly. Share Your Warmth this season. Bring in new or gently used adult and children's winter clothing during our 28thannual Share Your Warmth clothing drive and store-wide sale. Look in your closet and into your heart and Share Your Warmth October 12th - November 1st at your nearby Sun & Ski Sports location.
Each time you donate gently used winter clothing from 10/12 – 11/1 to help serve those in need, while in store by our donation bin, check-in and tag a public photo or video spreading the word about why you're donating using #ShareYourWarmth on Instagram, Twitter or Facebook. You'll automatically be entered for a chance to WIN a $200 Gift Certificate! We'll choose 1 random winner per store and announce the first week of November. View Official Rules.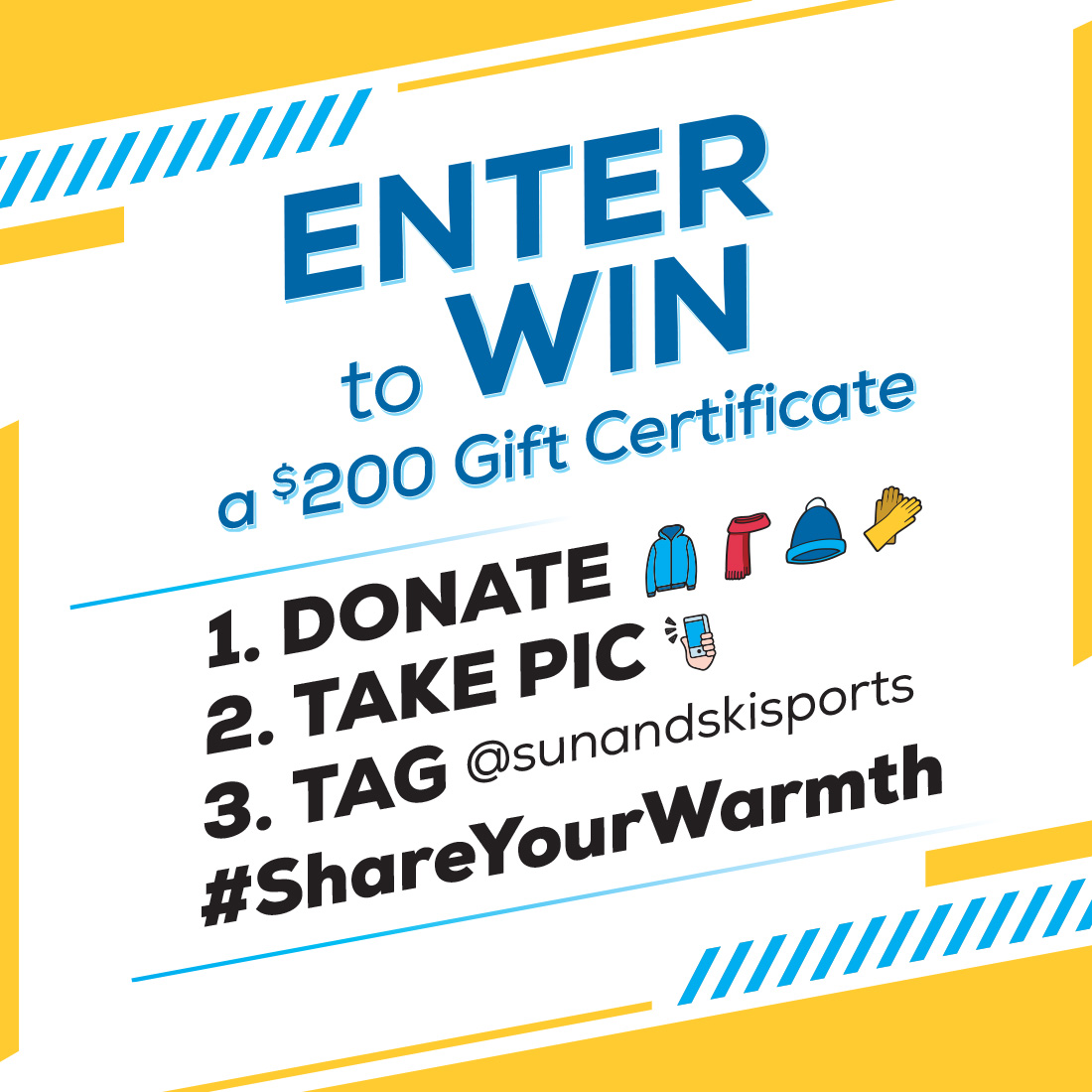 Your donations support a number of great charities including:
DFW
Mission Arlington/Metroplex
Austin
Saint Louis King of France Church and School
McAllen
Catholic Charities of the Rio Grande Valley
New York
Big Brothers Big Sisters of Long Island
North Conway
Episcopal Church of North Conway
Oklahoma
John 3:16
Norman Rescue Mission
Mission Norman
Massachusetts
The Boys and Girls Club of Plymouth
Woburn Veterans Affairs
Mammoth
Catholic Charities
Family & Intercultural Resource Center
Park City
Big Brother - Big Sister of Utah
Visit your local Sun & Ski Sports for our 28th annual Share Your Warmth Clothing Drive and Sale and earn 10% in Sun & Ski Cash on All Purchases. See associate for details.
*Offer cannot be combined with Sun and Ski Salutes Discount.