Thule T2 Classic 2-Bike 1.25" Hitch Rack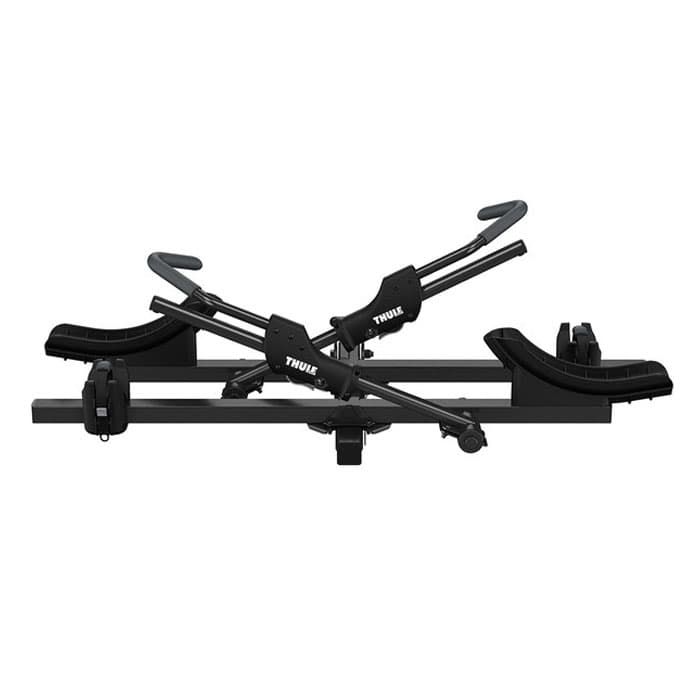 Product Details
The Thule T2 Classic 2-Bike 1.25" Hitch Rack is a super-rugged platform rack with frame-free clamping security for all types of bikes. This rack lets you secure bikes quickly without frame contact with the frame-free ratcheting arm and eliminate bike interference by adjusting side-to-side to create a generous spacing between bike mounts. The T2 Classic is ideal for carbon frames, mountain, downhill, e-bikes and fat bikes as it fits 20" to 29" wheels and up to 5" tires without adapters. Explore new roads and trails with the Thule Men's T2 Classic 2-Bike 1.25" Hitch Rack!
---
Features
Folds Easily Tilts Away from Vehicle Secure Bikes Quickly Frame Free Ratcheting Arm Fully Adjustable Bike Mounts Ideal for Carbon Frames Fits 20" to 29" Wheels Includes Snug Tite Lock (STL) Carries 2 Bikes One Key System Compatible Fits Most Bikes with Disc Brakes Fits 1.25" Receivers Only
Tech Specs
Bikes Supported: 2 Load Capacity: 100 lb Max Bike Weight: 60 lb Dimensions: 53" x 13" x 37" Folded Dimensions: 53" x 30" x 17" Weight: 50 lb Max Tire Width: 5" Max Wheel Size: 29" Max Wheelbase: 1219 mm Distance Between Bikes: 12.5"
---