2015 Katy Donut Rally
Sunday, November 8, 2015 @ Katy Mills Mall - Sun & Ski
The Katy Donut Rally is recommended BP MS150 Training Ride. We would love to see you out there riding with us!!
The ride starts at Sun & Ski - Katy Mills at 8am on Sunday, November 8th 2015. Faster riders will roll out first.
All riders will receive a rider number and refreshments at the rest stops.
The 1st 500 riders will get a Katy Donut Rally T-Shirt! There are two routes, a 20 mile and 40 mile route.
Riders can choose between the 20 mile competitive "Timed Donut Munching Ride" or the 40 mile "BP MS150 Recommended Training Ride".
Riders 17 years or younger must be accompanied by an adult during the ride.
Riders who sign up for the timed 20 mile donut ride will receive a timing chip the day of the event and their adjusted time will determine who has bragging rights for the event. 5 minutes are deducted from the gross time for every official donut consumed.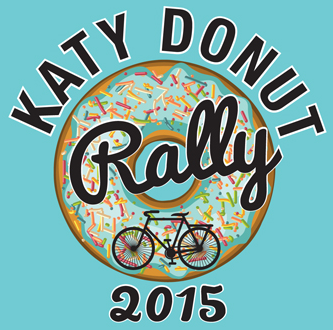 Packet Pick-up
Saturday, November 7, 2015
12pm - 3pm
326 Memorial City Mall
Houston, TX 77024
Packet Pick-Up is also available before the ride at the Sun & Ski - Katy Mills starting at 6:30am.