2019 Cannondale Scalpel Si Carbo 2 Demo Mountain Bike - Small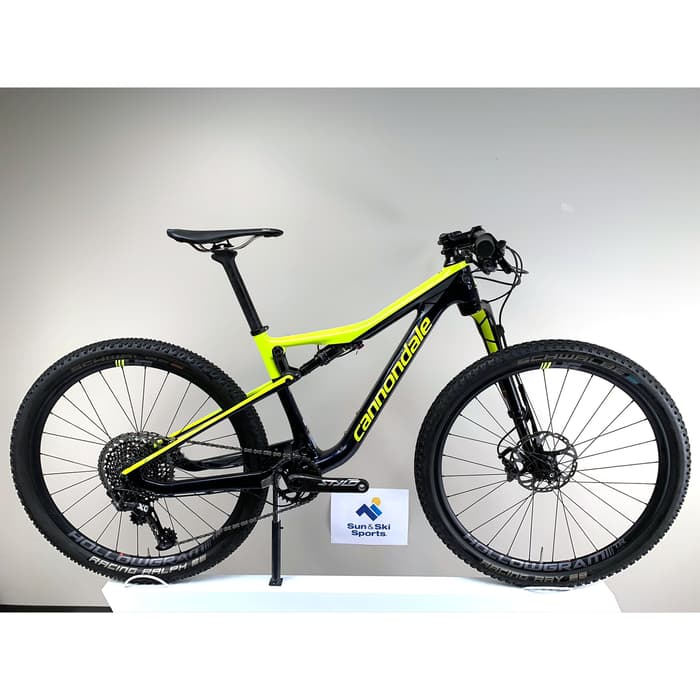 Product Details
The 2019 Cannondale Scalpel-Si Carbon 2 Demo Mountain Bike - Small is super light, quick and the XC geometry handles great coming down and climbs effortlessly. The Lefty Ocho allows you to be smooth and quick in and out of the corners. This is the bike for the competitor. It has Proprietary Ai offset drivetrain delivers super short chainstays for climb traction and agile handling, without sacrificing mud/tire clearance or limiting you to single ring set-ups. The OutFront Steering Geometry gives you the best of both worlds: slack and stable on steep descents, yet quick and fast everywhere else. The Lefty Ocho corners better, out-handles better, and outrides its XC competition hands down; it's smooth and precise. It's custom extra-long fork offsets (rake) make our OutFront Steering Geometry possible. If you want to be first then, the 22019 Cannondale Scalpel-Si Carbon 2 Demo Mountain Bike - Small is the bike for you.
This bike was a part of Sun & Ski Sports' demo fleet.
Each bike includes a manufacturer's warranty and is mechanically sound after a thorough inspection and pro tune-up. Bikes may have scratches and scuffs. While photos on this page are of the actual bike, some scratches and scuffs may not be shown in the photos.
---
Features
Proprietary AI offset drivetrain OutFront steering geometry Lefty Ocho Scalpel-Si Frame Chamber damper
UPC:
See How Others Are Using It
#sunandskisports
You May Also Like
Customers Also Viewed These Items