Arbor Axis Draplin Artist Edition 37" Longboard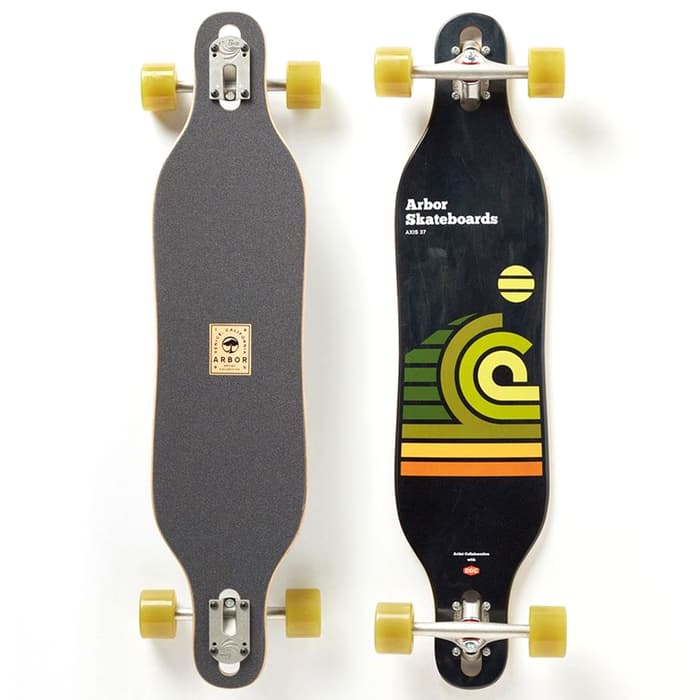 Product Details
The Arbor Axis Draplin Artist Edition 37" Longboard features a snowboard-inspired drop through for easy cruising and relaxed commuting. This mid-length board is beautifully built with a 7-ply hardrock maple, a larger shape for increased rolling speed, & sturdy momentum core that dampens bumpy rides. Paired with Arbor Outlook 69mm 78a wheels, Paris Reverse 50° 180mm trucks and ABEC 5 bearings & Spacers for the ultimate freeride cruising experience.
---
Features
Drop-Through Freeride Cruiser 7 Ply Hardrock Maple Paris Reverse 50° 180mm Trucks Outlook 69mm 78A Wheels ABEC 5 Bearings w/Spacers Arbor Easyrider Series - Outlook Designed for carving and cruising Larger shape increases rolling speed Size: 69mm // Durometer: 78a Contact Patch: 44.0mm // Offset: 2.5mm Momentum Core: Dampens bumpy rides Venice Formula: Soft and grippy
UPC:
Tech Specs
L: 37.00" W: 8.375" WB: 27.50"
See How Others Are Using It
#sunandskisports
You May Also Like
Customers Also Viewed These Items