BP MS150 Team Registration Guide
Please note that you MUST sign up through the MS Society in order to join Team Sun & Ski.
Ride with Team Sun & Ski this year and help us find a cure for MS!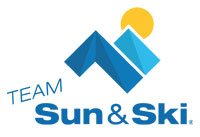 If you still need to sign up for the BP MS150 through the MS Society, this is the option for you. You must sign up through the MS Society in order to join Team Sun & Ski.
If you have already registered as an individual and want to join our team (or need to switch to Team Sun & Ski from another team), please email us your request.
Please Note: Be Sure To Note "Team Sun & Ski" on the Registration Page.
Benefits of Joining Team Sun & Ski.
Once you are officially registered through the MS Society with Team Sun & Ski you will receive an email with a link to Purchase the Team Jersey and Registration.
Please Note: Purchase Team Jersey and Registration ($125) AFTER You Have Registered at: www.ms150.org. Team Fees and Training Fees do NOT count towards fundraising.
There are four basic requirements to join the Sun & Ski Team:
You must be registered for the BP MS 150 and indicate Sun & Ski as your team.
You will receive a link to pay the ADDITIONAL $125 Team Jersey & Registration Fee.
You must raise a minimum $500 in Pledges to the MS Society.
If under 18, please have your parent or guardian authorize the waiver box.
Store Discounts for Team Members
35% discount on all bike maintenance
15% discount on any cycling apparel and accessory
10% discount on any non-sale bike
Ride Benefits & Support
Team Start in Houston
Private luggage transport from Houston to La Grange and on to Austin
Catered team lunch and expert mechanical support in Bellville
Massage therapy in La Grange
Party tent with music, dinner, and drinks in La Grange
Huge sleeping tent in La Grange
Mechanical support in La Grange
Team lunch and drinks in Austin at finish line
Fundraising prizes
Training Benefits
Free participation in training rides sponsored by Sun & Ski

Tour de Houston *Limited Spots
Katy Ram Challenge *Limited Spots

Core team access to the Ready2Roll Cycling Training Series (http://www.ready2rollcycling.com) [EXTRA FEE]
Social Bike Rides from Webster, Katy, The Woodlands and Galleria area stores
Custom Team Jersey
Additional questions about Team Sun & Ski?
Please email the Team Captain at teamcaptain@sunandski.com.
Keep up to date with the latest news on the Team Sun & Ski Facebook page.