Shipping Timeline
Most orders typically ship within 1 - 3 business days (Monday - Friday) after your order has been placed. Once your order leaves our warehouse, delivery times may vary depending on the shipping method you selected during checkout and the location of your shipping address.
Domestic Delivery Estimates
Shipping Method
Estimated Arrival Time
Free Ship-to-Store
4 - 10 Business Days
Free Economy Shipping (on order $50 or more)
$6.95 Flat Rate Shipping
(on orders under $50)
4 - 10 Business Days
FedEx Home Delivery / FedEx Business Ground
FedEx Express Saver
3 Business Days*
FedEx 2-Day
2 Business Days*
Standard 1-Day
1 Business Day Afternoon*
Priority 1-Day
1 Business Day Morning*
Canada, Hawaii, Alaska, and APO Delivery Estimates*
Shipping Method
Estimated Arrival Date
USPS Priority Mail
7 - 30 Business Days (depending on location)
*Hawaii and Alaska have the option of Guaranteed 2-Day, Guaranteed 1-Day and Priority Overnight
Delivery estimates are based on domestic orders placed today, before 12:00 PM CST, for in-stock items. Please see below for shipping restrictions. Ground Shipments are delivered Monday thru Friday. Home Delivery has a delivery schedule of Tuesday thru Saturday. Please allow and additional 3-5 business days for ALL BIKE ORDERS. Bikes may ship from our retail location and be received by customers in repackaged condition. If you have questions about bike shipping, please contact customer service at 866-786-3869.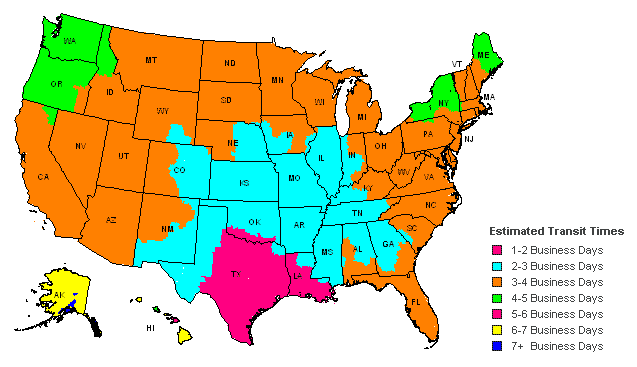 Shipping Exceptions & Restrictions
Estimated arrival dates are not guaranteed.
Weather related shipping delays are not within the control of Sun & Ski and may delay orders.
Orders are shipped on business days only (Monday - Friday) excluding federal holidays.
Please allow 1-2 business days processing before your order is shipped.
Oversized items (Bikes, Canoes, Rooftop Boxes, etc) have additional delivery costs and times and must be shipped by freight.
Orders being shipped to Canada, Hawaii, Alaska, US Territories or APO do not qualify for Free Economy Shipping.
Canadian & other International orders may be subject to duties and/or taxes.
Orders Do Not Ship on the Following Holidays:
New Year's Day
Good Friday
Memorial Day
4th of July
Labor Day
Thanksgiving Day
Day After Thanksgiving
Christmas Eve
Christmas Day