Wow Sports Mega Slide '20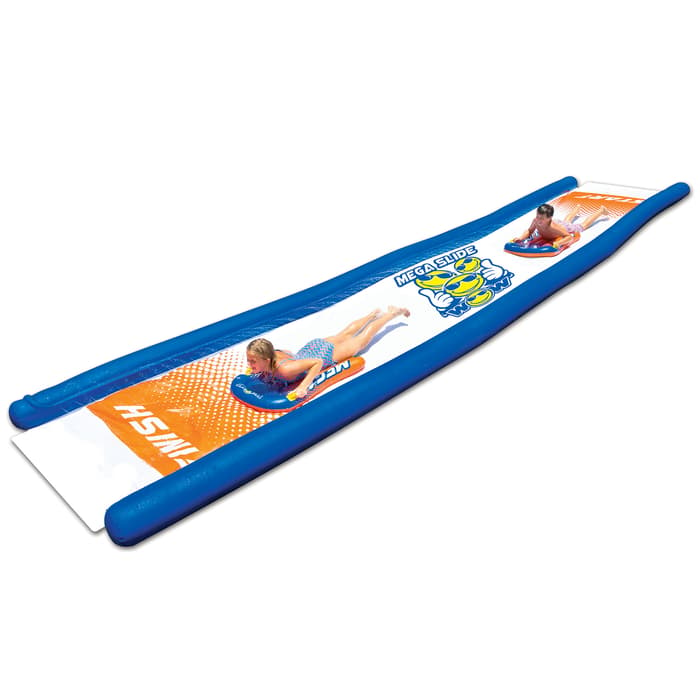 Product Details
The WOW Sports Mega Slide is a giant 25' x 6' slippery water slide with built in sprinkler that will keep the kids entertained all day long. It's made from extra thick, heavy-duty, super-slick, smooth PVC to help you slip and slide all the way to the end. In fact, it is more than twice as thick as most of the slides you will find in the market. And no need to add dish soap to keep this slide slippery. The zig-zag patterned, 25' embedded sprinkler system connects to the standard backyard hose,runs the length of the slide and has 100% water coverage so no dry spots and also it also has sidewall pontoons to keep the water on the slide as well as your kids! This slide features a customized connection system added to the ends of each pontoon, so you can purchase 2 or more of slides and connect them all together for an even longer slide and twice the fun! Each slide comes with 2 Sleds to cushion the fall and make the slide even more slippery. If you're looking for something special for your kid's next backyard birthday party, the WOW Sports Mega Slide is the perfect party favor for you.
---
Features
Zig Zag Spray Pattern Awesome Water Coverage Fun Connects Easily to Backyard Water Hose Super Slick, No Need to Add Soap 8" High Side-Wall Pontoons Sled Included for a More Slippery Ride Customized Connection System Allows you to connect as many as you want Patented Design Easy Setup 1-Year Manufacturer Warranty
Tech Specs
Materials: PVC Dimensions: 25' x 6' Sled Dimensions: 36" x 24"
You May Also Like
Customers Also Viewed These Items