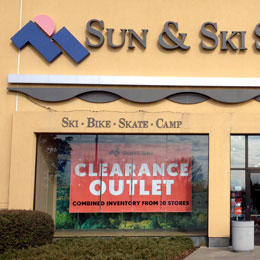 Sun & Ski - Sugarloaf Mills Clearance Outlet
Stop by your local Sun & Ski for all of your outdoor gear needs. Looking for a new pair of snow skis or a snowboard? Let one of our experts help you find the right fit.
Address:
Sun & Ski - Sugarloaf Mills

5900 Sugarloaf Parkway

Lawrenceville, GA 30043

Phone:

(678) 847-5717
Store Hours:
Mon. - Sat.: 10 AM - 9 PM
Sun.: 12 PM - 6 PM
GPS Coordinates:
33.9828278, -84.0767054
N33°58.969668, W084°4.602324
What We Offer
Need help with running shoe fit and size? Not sure which ski to buy? Stop by your local Sun & Ski and talk with one of our Experts!
Closeouts and Clearance
Tune-Ups, Waxes, Sharpening
Latest Tech & Fashions
Tune-Ups, Waxes, Sharpening
Ski Jackets, Gloves, Pants
Shoe Fit and Sizing
Latest Colors & Sytles
Expert Advice, Top Brands
Gait Analysis, Top Brands
Sign Up for Updates
Stay up-to-date on the latest in-store events, sales, special promotions and more!
Subscribe Today
How Are We Doing?
Have you visited Sun & Ski in Georgia lately? Let us know how we're doing and be entered for a chance to win a $100 Gift Card!
Take a Quick Survey
About the Store
Our Lawrenceville ski, snowboard and watersports shop is also a national clearance center where discounted inventory from all of our stores is consolidated to provide you with the best deals on sporting equipment for every season.
The Sun & Ski Clearance Outlet in Lawrenceville is an outdoor sporting equipment store staffed by certified technicians who have years of experience tuning and repairing skis and snowboards. They can perform any kind of work, from a simple tune-up to the most complicated major overhaul. Our Lawrenceville, Georgia, ski shop and snowboard store, has an on-site ski/snowboard service with stone grinders and custom boot fitting specialists to ensure customers a complete "fit and tune" before hitting the slopes.